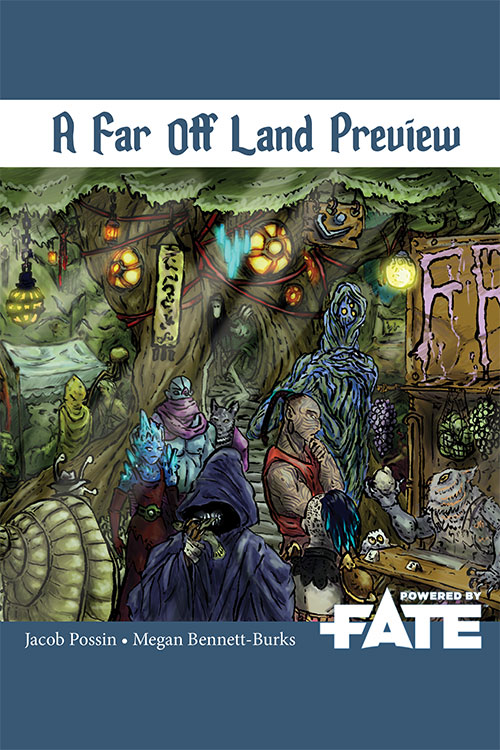 A Far Off Land will be Bennett-Burks Design's second RPG setting and is presently being Kickstarted.
A Far Off Land is being written by myself (Megan Bennett-Burks) and my co-author Jacob Possin (co-author of Jadepunk, contributor to the Fate Codex.
Artists will include Gennifer Bone (who has done art for Lamentations of the Flame Princess, & much more), Tanyaporn Sangsnit (who has done art for Legendary Games, Project Biomodus, & many more), and more!
Jacob Possin and I have been doing a series of interviews, from podcasts, to blogs, to videos.
The Kickstarter itself can be found here: https://www.kickstarter.com/projects/8614065/a-far-off-land-a-fate-rpg-in-two-worlds
An interview with me here with Mark Van Vlack on his Dust Pan Games blog: http://dustpangames.blogspot.com/2017/10/a-far-off-land-kick-starting-now.html
I also will be part of an #RPGnet chat and other interviews soon!  The #RPGnet chat will be Monday, November 6th, 6PM Pacific Time.  Here's its listing on the RPGnet calender.
"You, Fated one, are a beautiful lie, and so too is the world around you"
A Far Off Land is a multi-world spanning fantasy RPG (roleplaying game) setting by Megan Bennett-Burks and Jacob Possin for the Fate RPG. We will include rules for Apocalypse World / PbtA in a PDF IF we hit the $7000 funding mark.
Take the role of one of the Fated; shapeshifting beings which are creatures of both worlds. The Fated are akin to the demigods of legend.
The intrigues of the many Courts & Factions are at the heart of the game. Each group has its own vision for the two worlds, and ideas about your place within it; will you fight to see this vision come to its fruition? Or will you rebel and carve out your own place in the two worlds?